notAmos Performing Editions
1 Lansdown Place East, Bath
BA1 5ET, UK
+44 (0) 1225 316145
Email

Performing editions of pre‑classical music
with full preview/playback and instant download

Thomas Ravenscroft

(c.1582 - c.1635)


The Owl

(T.T.B. + reduction)
Full score (PDF), €0.00 for unlimited copies Download this item
Printable cover page (PDF), €0.00 for unlimited copies Download this item

Please click here to report any problem obtaining a PDF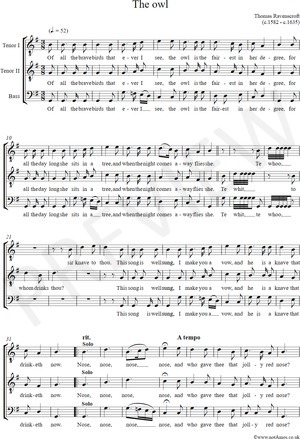 Page 1 of 2
This work, Ravenscroft : The Owl : scoreid 100904
, as published by
notAmos Performing Editions
, is licensed under a
Creative Commons Attribution-ShareAlike 4.0 International License
. All relevant attributions should state its URL as
https://www.notamos.co.uk/detail.php?scoreid=100904
. Permissions beyond the scope of this licence may be available at
https://www.notamos.co.uk/index.php?sheet=about
.
From Deuteromelia, 1609, in which it is described as a freemen's song. It was revived and included by Thos. Warren in his 17th collection of catches, canons and glees, pub. 1769 (attributed to Nicholas Freeman, 1667!). It is that version, which appears to include traditional features of performance not recorded in the original, that is the basis of the current edition.

The piece was used as a glee in several theatrical productions of the late eighteenth century, which probably explains its appearance in a regimental sing-song on the eve of the Battle of El Hammad (Egypt, 1807).
Lyrics: Anon, probably the composer

Of all the brave birds that ever I see,
The owl is the fairest in her degree,
For all the day long she sits in a tree,
And when the night comes away flies she.
Te whit, Te whow, to whom drinks thou?
Sir knave to Thou.
This song is well sung, I make you a vow,
And he is a knave that drinketh now.
Nose, nose, nose, nose,
And who gave thee that jolly red nose?
Cinnamon and ginger, nutmegs and cloves,
And that gave thee thy jolly red nose.