notAmos Performing Editions
1 Lansdown Place East, Bath
BA1 5ET, UK
+44 (0) 1225 316145
Email

Performing editions of pre‑classical music
with full preview/playback and instant download

Full score (PDF), €0.00 for unlimited copies Download this item
Printable cover page (PDF), €0.00 for unlimited copies Download this item

Please click here to report any problem obtaining a PDF

Click on the illustration to display a larger version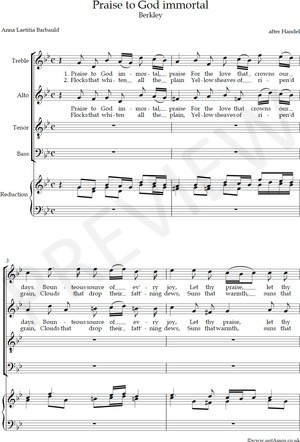 Page 1 of 7
This work, Handel : Praise to God immortal : scoreid 101181
, as published by
notAmos Performing Editions
, is licensed under a
Creative Commons Attribution-ShareAlike 4.0 International License
. All relevant attributions should state its URL as
https://www.notamos.co.uk/detail.php?scoreid=101181
. Permissions beyond the scope of this licence may be available at
https://www.notamos.co.uk/index.php?sheet=about
.
Eighteenth century "West Gallery" style hymn from "SACRED HARMONY, or a collection of psalm tunes ancient and modern, .... by R. Harrison", London c.1790. Verses 2 - 5 have been imported from external sources and formatting and underlay are therefore editorial. Mrs Barbauld's "Praise to God in prosperity and adversity" was plundered (generally, in prosperity only) by later hymnodists for use in the newly-minted Harvest Festival liturgy.
Lyrics: Anna Laetitia Barbauld

Praise to God immortal, praise
For the love that crowns our days.
Bounteous source of ev'ry joy,
Let thy praise our tongues employ;
For the blessings of the field,
For the stores the gardens yield,
For the vine's exalted juice,
For the gen'rous olives' use.

Flocks that whiten all the plain,
Yellow sheaves of rip'ned grain,
Clouds that drop their fatt'ning dews,
Suns that temp'rate warmth diffuse;
All that Spring, with bounteous hand,
Scatters o'er the smiling land;
All that lib'ral Autumn pours
From her rich o'erflowing stores;

These to thee, O God, we owe;
Source whence all our blessings flow;
And for these our souls shall raise
Grateful vows and solemn praise.

Yet should rising whirlwinds tear
From its stem the rip'ning ear;
Should the figtree's blasted shoot
Drop her green untimely fruit;
Should the vine put forth no more,
Nor the olive yield her store;
Though the sick'ning flocks should fall
And the herds desert the stall;

Should thine alter'd hand restrain
The early and the latter rain;
Blast each op'ning bud of joy,
And the rising year destroy;
Yet to thee our souls should raise
Grateful vows and solemn praise;
And, when ev'ry blessing's flown,
Love thee for thyself alone.