notAmos Performing Editions
1 Lansdown Place East, Bath
BA1 5ET, UK
+44 (0) 1225 316145
Email

Performing editions of pre‑classical music
with full preview/playback and instant download
Richard Dering

(c.1580 - 1630)


Quem vidistis pastores? a 6

(S.S.A.T.T.B. + reduction)
Full score (PDF), €1.00 for a single copy Buy this item
Choir offer (PDF), €10.50 for 18 copies Buy this item
Printable cover page (PDF), €0.00 for unlimited copies Download this item

Please click here to report any problem obtaining a PDF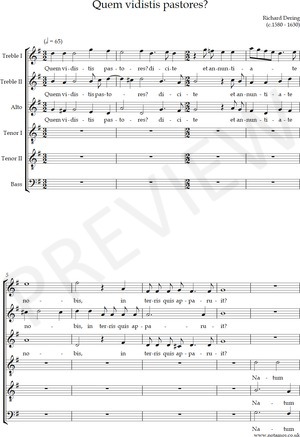 Page 1 of 8
From Dering's Cantica Sacra, Antwerp, 1618. The composer provided a continuo part, following the bass (or lowest sounding voice). This has been omitted in favour of the reduction (for rehearsal purposes).
Lyrics: Anon

Quem vidistis, pastores? Dicite, annuntiate nobis, in terris quis apparuit.
Natum vidimus et choros angelorum collaudantes Dominum, Alleluia.

Whom did you see, shepherds? Speak and tell us: who has appeared on earth?
We saw the new-born and choirs of angels praising the Lord. Alleluia.