notAmos Performing Editions
1 Lansdown Place East, Bath
BA1 5ET, UK
+44 (0) 1225 316145
Email

Performing editions of pre‑classical music
with full preview/playback and instant download
From Megalynodia Sionia, 1611. Praetorius' setting of the Magnificat for use at Christmas comprises the text of the Magnificat set to the slightly adapted music of Lassus' "Angelus ad pastores ait" (see NotAmos edition of that motet; the two pieces make an excellent pairing). The polyphonic verses of the Magnificat are interlarded with homophonic settings of German or Latin Christmas texts.
Lyrics: Luke ch.1 v.46-55 with interpolations
Page 1 of 27
Michael Praetorius
(?1571 - 1621)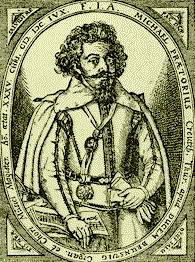 Magnificat super Angelus ad pastores ait


(S.A.T.T.B. + reduction)

Preview and playback are available to the left or above


Full score (PDF), €3.00 for a single copy Buy this item
Choir offer (PDF), €27.00 for 15 copies Buy this item
Printable cover page (PDF), €0.00 for unlimited copies Download this item

Please click here to report any problem obtaining a PDF