notAmos Performing Editions
1 Lansdown Place East, Bath
BA1 5ET, UK
+44 (0) 1225 316145
Email

Performing editions of pre‑classical music
with full preview/playback and instant download
From Il secondo libro de' mottetti a sei voci, 1593.
Lyrics: Psalm 96, v.1-3

Cantate Domino canticum novum cantate Domino omnis terra.
Cantate Domino benedicite nomini eius adnuntiate diem de die salutare eius.
Annuntiate inter gentes gloriam eius in omnibus populis mirabilia eius

O sing unto the Lord a new song: sing unto the Lord, all the whole earth.
Sing unto the Lord, and praise his Name: be telling of his salvation from day to day.
Declare his honour unto the heathen: and his wonders unto all people.
Page 1 of 19
Claudio Merulo
(1533 - 1604)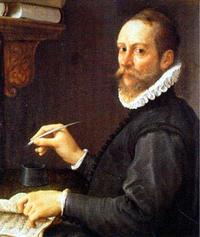 Cantate Domino


(S.S.A.A.T.B.B. + reduction)

Preview and playback are available to the left or above


Full score (PDF), €2.00 for a single copy Buy this item
Choir offer (PDF), €25.00 for 21 copies Buy this item
Printable cover page (PDF), €0.00 for unlimited copies Download this item

Please click here to report any problem obtaining a PDF