notAmos Performing Editions
1 Lansdown Place East, Bath
BA1 5ET, UK
+44 (0) 1225 316145
Email

Performing editions of pre‑classical music
with full preview/playback and instant download

Orlande de Lassus

(?1532 - 1594)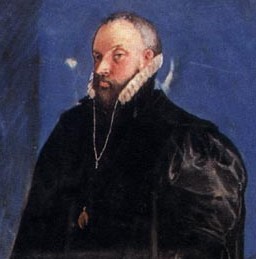 En un chasteau

(S.A.T.B. (or A.T.T.B.) + reduction)
Full score (PDF), €0.00 for unlimited copies Download this item
Transposed score (PDF), €0.00 for unlimited copies Download this item
Printable cover page (PDF), €0.00 for unlimited copies Download this item

Please click here to report any problem obtaining a PDF
Page 1 of 5
This work, Lassus : En un chasteau : scoreid 108296
, as published by
notAmos Performing Editions
, is licensed under a
Creative Commons Attribution-ShareAlike 4.0 International License
. All relevant attributions should state its URL as
https://www.notamos.co.uk/detail.php?scoreid=108296
. Permissions beyond the scope of this licence may be available at
https://www.notamos.co.uk/index.php?sheet=about
.
From the Mellange d'Orlande de Lassus, 1570. This edition is offered at printed pitch for S.A.T.B. or transposed down a fourth for A.T.T.B.
Lyrics: Anon

En un château ma dame par grand cure
Vit Hercules en marbre erigé.
Beau le trouva & de belle stature.
N'y trouvant rien pour être corrigé,
Fors le petit membre quelle a jugé
Être imparfait auprès de son grand corps.
"Vous, vous trompez" dit le maçon agé,
"Car vos grands trous étaient petits alors".

So in this classy gaff her indoors, well nosey,
Has a butcher's at this Hercules carved from marble,
Well fit and a fine upstanding young man.
She rates him all O.K. 'cept for
His little hampton which she reckons
Well too small given his overall lardiness.
"You're wrong, mate", says the aged chiseller,
"'cause your ginormous orifices used to be minute".