notAmos Performing Editions
1 Lansdown Place East, Bath
BA1 5ET, UK
+44 (0) 1225 316145
Email

Performing editions of pre‑classical music
with full preview/playback and instant download
From Merulo's Second Book of motets for 6 voices, pub. 1593.
Lyrics: Anon

Ecce Maria genuit nobis Salvatorem: quem Joannis videns exclamavit dicens: Ecce Agnus Dei qui tollit peccata mundi. Alleluia.

Behold, Mary bore our Saviour. Seeing this, John exclaimed: "Behold the lamb of God, that taketh away the sins of the world." Alleluia.
Page 1 of 18
Claudio Merulo
(1533 - 1604)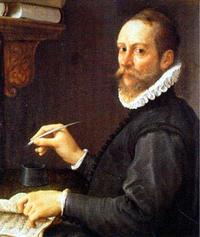 Ecce Maria genuit


(S.S.A.A.T.B.B. + reduction)

Preview and playback are available to the left or above


Full score (PDF), €1.90 for a single copy Buy this item
Choir offer (PDF), €23.50 for 21 copies Buy this item
Printable cover page (PDF), €0.00 for unlimited copies Download this item

Please click here to report any problem obtaining a PDF