notAmos Performing Editions
1 Lansdown Place East, Bath
BA1 5ET, UK
+44 (0) 1225 316145
Email

Performing editions of pre‑classical music
with full preview/playback and instant download
From Motectorum et missarum octo vocibus (Book 1), Naples.
Lyrics: Anon

Filiae Jerusalem venite et videte martyres cum coronis quibus coronavit eos Dominus in die solemnitatis et laetitiae. Alleluia.
Laetitia sempiterna erit super capite eorum: gaudium et exultationem obtinebunt, et aeternitas temporum. Alleluia.

O daughters of Jerusalem, come and see the martyrs with their crowns, whom the Lord hath crowned on that day of solemn rejoicing. Alleluia.
Everlasting joy shall be upon their heads: they shall achieve gladness and exultation forever.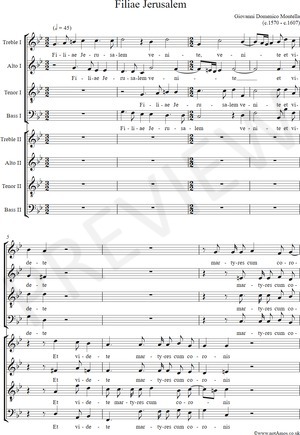 Page 1 of 12
Giovanni Domenico Montella
(c.1570 - c.1607)


Filiae Jerusalem


(S.S.A.A.T.T.B.B. + reduction)

Preview and playback are available to the left or above


Full score (PDF), €1.20 for a single copy Buy this item
Choir offer (PDF), €17.00 for 24 copies Buy this item
Printable cover page (PDF), €0.00 for unlimited copies Download this item

Please click here to report any problem obtaining a PDF