notAmos Performing Editions
1 Lansdown Place East, Bath
BA1 5ET, UK
+44 (0) 1225 316145
Email

Performing editions of pre‑classical music
with full preview/playback and instant download
From Wilbye's second set of madrigals. 1609.
Lyrics: Anon, probably the composer

Draw on, sweet night, friend unto those cares
That do arise from painful melancholy.
My life so ill through want of comfort fares
That unto thee I consecrate it wholly.
Sweet night draw on.
My griefs when they be told to shades
And darkness find some ease from paining.
And while thou all in silence dost enfold,
I then shall have best time for my complaining.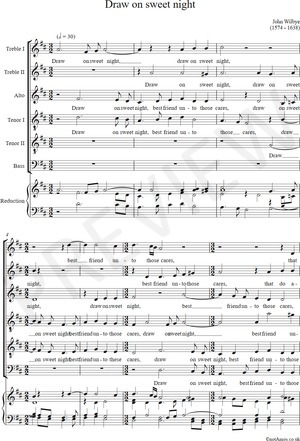 Page 1 of 10
John Wilbye
(1574 - 1638)


Draw on sweet night


(S.S.A.T.T.B. + reduction)

Preview and playback are available to the left or above


Full score (PDF), €0.00 for unlimited copies Download this item
Printable cover page (PDF), €0.00 for unlimited copies Download this item

Please click here to report any problem obtaining a PDF