notAmos Performing Editions
1 Lansdown Place East, Bath
BA1 5ET, UK
+44 (0) 1225 316145
Email

Performing editions of pre‑classical music
with full preview/playback and instant download
From Merulo's Second Book of motets for 6 voices, pub. 1593. The original is a minor third lower, scored SATTTBB.
Lyrics: Anon

Hei mihi! Domine, quia peccavi nimis in vita mea:
quid faciam miser, ubi fugiam nisi ad te Deus meus?
Miserere mei, dum veneris in novissimo die.

Woe is me, O Lord, that has sinned exceedingly in my life.
Wretch, what can I do, where can I flee, except to my God.
Have mercy on me, when Thou shalt come on the last of days.
Page 1 of 14
Claudio Merulo
(1533 - 1604)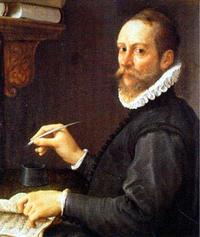 Hei mihi! Domine


(S.S.A.A.T.T.B. + reduction)

Preview and playback are available to the left or above


Full score (PDF), €2.20 for a single copy Buy this item
Choir offer (PDF), €27.50 for 21 copies Buy this item
Printable cover page (PDF), €0.00 for unlimited copies Download this item

Please click here to report any problem obtaining a PDF