notAmos Performing Editions
1 Lansdown Place East, Bath
BA1 5ET, UK
+44 (0) 1225 316145
Email

Performing editions of pre‑classical music
with full preview/playback and instant download

Orlande de Lassus

(?1532 - 1594)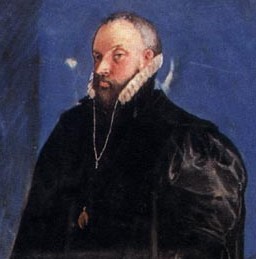 Missus est Angelus Gabriel

(S.S.A.T.T.B.)
Full score (PDF), €0.00 for unlimited copies Download this item
Printable cover page (PDF), €0.00 for unlimited copies Download this item

Please click here to report any problem obtaining a PDF
Page 1 of 12
This work, Lassus : Missus est Angelus Gabriel : scoreid 110818
, as published by
notAmos Performing Editions
, is licensed under a
Creative Commons Attribution-ShareAlike 4.0 International License
. All relevant attributions should state its URL as
https://www.notamos.co.uk/detail.php?scoreid=110818
. Permissions beyond the scope of this licence may be available at
https://www.notamos.co.uk/index.php?sheet=about
.
From Magnum Opus musicum. Suitable for use at the Feast of the Assumption, or at Christmas.
Lyrics: Luke ch.1 v.26-38

Missus est angelus Gabriel a Deo in civitatem Galilaeae cui nomen Nazareth
ad virginem desponsatam viro cui nomen erat Joseph de domo David, et nomen virginis Maria.
Et ingressus angelus ad eam dixit: Ave, gratia plena, Dominus tecum, benedicta tu in mulieribus.
Quae cum audisset, turbata est in sermone ejus et cogitabat qualis esset ista salutatio.
Et ait angelus ei: Ne timeas, Maria, invenisti enim gratiam apud Deum.
Ecce concipies in utero et paries filium et vocabis nomen ejus Jesus.
Hic erit magnus et Filius Altissimi vocabitur, et dabit ei Dominus sedem David, patris ejus, et regnabit in domo Jacob in aeternum
et regni ejus non erit finis.
Dixit autem Maria ad angelum: Quomodo fiet istud quoniam virum non cognosco?
Et respondens angelus dixit ei: Spiritus Sanctus superveniet in te et virtus Altissimi obumbrabit tibi,
ideoque et quod nascetur ex te sanctum vocabitur Filius Dei.
Et ecce Elisabeth cognata tua et ipsa concepit filium in senectute sua et hic mensis sextus est illi
quae vocatur sterilis:
quia non erit impossibile apud Deum omne verbum.
Dixit autem Maria: Ecce ancilla Domini, fiat mihi secundum verbum tuum.

The angel Gabriel was sent by God to a city of Galilee named Nazareth,
to a virgin betrothed to a man whose name was Joseph, of the house of David. The virgin's name was Mary.
And having come in, the angel said to her, "Rejoice, highly favored one, the Lord is with you; blessed are you among women!"
But when she saw him, she was troubled at his saying, and considered what manner of greeting this was.
Then the angel said to her, "Do not be afraid, Mary, for you have found favour with God.
And behold, you will conceive in your womb and bring forth a Son, and shall call His name Jesus.
He will be great, and will be called the Son of the Highest; and the Lord God will give Him the throne of His father David.
And He will reign over the house of Jacob forever, and of His kingdom there will be no end."
Then Mary said to the angel, "How can this be, since I do not know a man?"
And the angel answered and said to her, "The Holy Spirit will come upon you, and the power of the Highest will overshadow you; therefore, also, that Holy One who is to be born will be called the Son of God.
Now indeed, Elizabeth your relative has also conceived a son in her old age; and this is now the sixth month for her who was called barren.
For with God nothing will be impossible."
Then Mary said, "Behold the maidservant of the Lord! Let it be to me according to your word."