notAmos Performing Editions
1 Lansdown Place East, Bath
BA1 5ET, UK
+44 (0) 1225 316145
Email

Performing editions of pre‑classical music
with full preview/playback and instant download
Of Lichfild nothing is known, except that the dedication of his sole printed set of madrigals (from which this item comes) shows him to have been in the service of Lady Cheney of Toddington, Beds.
Lyrics: Anon, probably the composer

Shall I seek to ease my grief?
No, my sight is lost with eteing.
Shall I speak and beg relief?
No, my voice is hoarse with crying.
O, what remains, but only dying?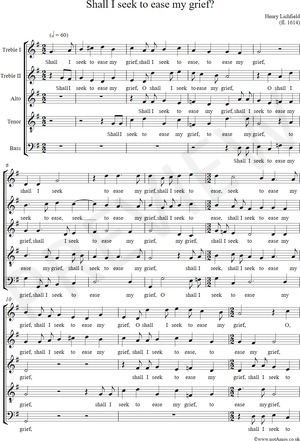 Page 1 of 7
Henry Lichfild
(fl.1614)


Shall I seek to ease my grief?


(S.S.A.T.B. + reduction)

Preview and playback are available to the left or above


Full score (PDF), €1.00 for a single copy Buy this item
Choir offer (PDF), €9.00 for 15 copies Buy this item
Printable cover page (PDF), €0.00 for unlimited copies Download this item

Please click here to report any problem obtaining a PDF