notAmos Performing Editions
1 Lansdown Place East, Bath
BA1 5ET, UK
+44 (0) 1225 316145
Email

Performing editions of pre‑classical music
with full preview/playback and instant download
From "A collection of glees, catches and canons.... composed by Benjamin Cooke, organist of Westminster Abbey". London, c.1780.
Lyrics: A child

In paper case, hard by this place,
Dead a poor dormouse lies.
And soon or late, summon'd by fate,
Each prince, each monarch dies.

Ye sons of verse, while we rehearse,
Attend instructive rhyme.
No sins had Dor to answer for,
Repent of yours in time.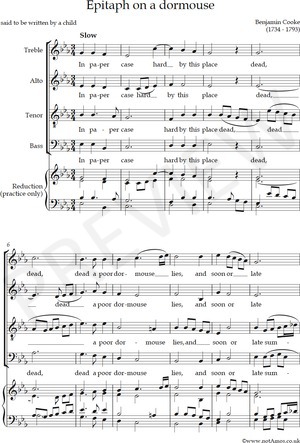 Page 1 of 4
Benjamin Cooke
(1734 - 1793)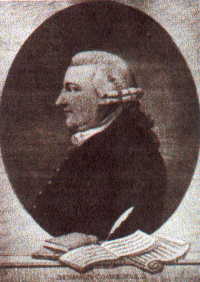 Epitaph on a dormouse


(S.A.T.B. + reduction)

Preview and playback are available to the left or above


Full score (PDF), €0.00 for unlimited copies Download this item
Printable cover page (PDF), €0.00 for unlimited copies Download this item

Please click here to report any problem obtaining a PDF