notAmos Performing Editions
1 Lansdown Place East, Bath
BA1 5ET, UK
+44 (0) 1225 316145
Email

Performing editions of pre‑classical music
with full preview/playback and instant download

Henry Harington

(1727 - 1816)


O thou whose notes

(A.T.B. + reduction)
Full score (PDF), €1.00 for a single copy Buy this item
Choir offer (PDF), €5.00 for 9 copies Buy this item
Printable cover page (PDF), €0.00 for unlimited copies Download this item

Please click here to report any problem obtaining a PDF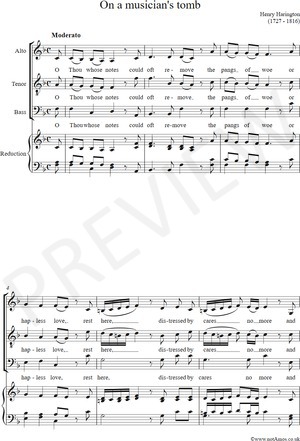 Page 1 of 4
For licensing/copyright information please click
here
From "A favourite collection of songs, glees, elegies and canons, for one, two, three, four and five voices: composed by Mr Harrington of Bath. London, pr 5/-. Printed by Longman and Broderip No. 26 Cheapside" [c. 1780].
Lyrics: Henry Harington

O thou, whose notes could oft remove
The pangs of woe or hapless love,
Rest here, distressed by cares no more,
And taste such calm thou gav'st before.
Sleep undisturb'd within thy peaceful shrine
'Til angels wake thee with such notes as thine.