notAmos Performing Editions
1 Lansdown Place East, Bath
BA1 5ET, UK
+44 (0) 1225 316145
Email

Performing editions of pre‑classical music
with full preview/playback and instant download

Giovanni Croce

(c.1557 - 1609)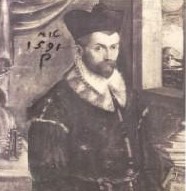 Hearken, O Lord, unto mine humble plainings

(S.A.T.T.T.B. (or A.A.T.T.B.B.))
Full score (PDF), €0.00 for unlimited copies Download this item
Transposed score (PDF), €0.00 for unlimited copies Download this item
Printable cover page (PDF), €0.00 for unlimited copies Download this item

Please click here to report any problem obtaining a PDF
Page 1 of 10
This work, Croce : Hearken, O Lord, unto mine humble plainings : scoreid 143046
, as published by
notAmos Performing Editions
, is licensed under a
Creative Commons Attribution-ShareAlike 4.0 International License
. All relevant attributions should state its URL as
https://www.notamos.co.uk/detail.php?scoreid=143046
. Permissions beyond the scope of this licence may be available at
https://www.notamos.co.uk/index.php?sheet=about
.
Croce's Sette sonetti penitentiali were first published in 1597. They arrived in England a decade later as "Musica Sacra: to Six Voyces. Composed in the Italian tongue by GIOVANNI CROCE. Newly Englished. In London Printed by Thomas Este, the assigne of William Barley. 1608." This edition is offered at original pitch (high chiavette) for S.A.T.T.T.B. or transposed down a fourth for A.A.T.T.B.B.
Lyrics: Psalm 102, paraphrased in sonnet by Francesco Bembo, english'd by R.H.

Hearken O Lord unto mine humble plainings,
Hide not thy face for ever in thine anger:
My days do vade as smoke, my heart in languor,
Here (flies) to thee: why shun'st thou my complainings?
Friends have I none; now from me all are flying:
In stead of bread I have been fed with ashes,
My drink my tears,; while I have felt the lashes
Of thy fierce wrath, for all mine often crying.
All kings and nations shall admire thy glory,
When thou the sighs of humble souls attendest;
It shall be writ in an eternal story.
Ah! Leave me not, thou, thou that all defendest,
That madest all (heav'n, earth, and ocean hoary):
That never didst begin, and never endest.