notAmos Performing Editions
1 Lansdown Place East, Bath
BA1 5ET, UK
+44 (0) 1225 316145
Email

Performing editions of pre‑classical music
with full preview/playback and instant download

Giovanni Croce

(c.1557 - 1609)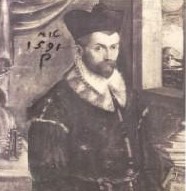 Lord, in thy wrath reprove me not severely

(S.A.T.T.T.B.)
Full score (PDF), €0.00 for unlimited copies Download this item
Printable cover page (PDF), €0.00 for unlimited copies Download this item

Please click here to report any problem obtaining a PDF
Page 1 of 12
This work, Croce : Lord, in thy wrath reprove me not severely : scoreid 143048
, as published by
notAmos Performing Editions
, is licensed under a
Creative Commons Attribution-ShareAlike 4.0 International License
. All relevant attributions should state its URL as
https://www.notamos.co.uk/detail.php?scoreid=143048
. Permissions beyond the scope of this licence may be available at
https://www.notamos.co.uk/index.php?sheet=about
.
Croce's Sette sonetti penitentiali were first published in 1597. They arrived in England a decade later as "Musica Sacra: to Six Voyces. Composed in the Italian tongue by GIOVANNI CROCE. Newly Englished. In London Printed by Thomas Este, the assigne of William Barley. 1608."
Lyrics: Psalm 6, paraphrased in sonnet by Francesco Bembo, english'd by R.H.

Lord, in thy wrath reprove me not severely,
Nor punish me in thy deserv'd displeasure:
Have mercy on my sins exceeding measure,
For full of fears, my soul is vexed drearly.
Save it (O Lord) Almighty - most supernal,
Save it (alas) from th'ever-never dying:
For who in deep hell (and fierce torments frying)
Shall sing thy praise, or can extoll th'eternal?
Long have I languish'd in my grievous sorrows,
My bed and bosom with my tears I water;
My foes' despite hath ploughed my face with furrows.
But (now my soul) let the ungodly scatter:
Hence ye wicked, sith God (so gracious for us)
Hath heard my moan, and doth regard my matter.