notAmos Performing Editions
1 Lansdown Place East, Bath
BA1 5ET, UK
+44 (0) 1225 316145
Email

Performing editions of pre‑classical music
with full preview/playback and instant download
Adagio - Allegro - Gigg

Six solo's for a German flute, violin or harpsichord. Compos'd by John Stanley M.B. Organist of The Temple and St Andrew's. Opera quarto. London. Printed for & sold by J Johnson, Musick seller in Cheapside and at all ye. Musick Shops. MDCCXLV.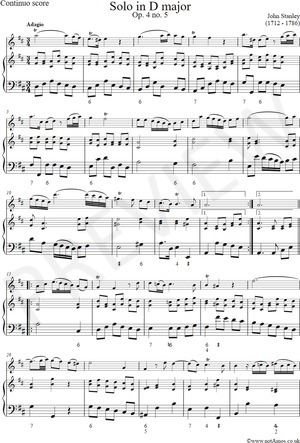 Page 1 of 7
John Stanley
(1712 - 1786)


Solo in D major Op. 4 no. 5


(Fl./Vn.Continuo)

Preview and playback are available to the left or above


Continuo score (PDF), €1.50 for a single copy Buy this item
Flute/Violin part (PDF), €1.00 for unlimited copies Buy this item
Violoncello part (PDF), €1.00 for unlimited copies Buy this item
Printable cover page (PDF), €0.00 for unlimited copies Download this item
Score, part(s) and cover page (PDF), €3.30 for bundled copies Buy this item

Please click here to report any problem obtaining a PDF