notAmos Performing Editions
1 Lansdown Place East, Bath
BA1 5ET, UK
+44 (0) 1225 316145
Email

Performing editions of pre‑classical music
with full preview/playback and instant download
From Musae Sioniae, 1607.
Lyrics: Johann Agricola

Ich ruf zu dir Herr Jesu Christ,
ich bitt er hör mein Klagen;
verleih mir Gnad zu dieser Frist,
laß mich doch nicht verzagen.
Den rechten Glauben, Herr, ich mein,
den wollest du mir geben, dir zu leben,
meim Nächsten nutz zu sein,
dein Wort zu halten eben.

I call to You, Lord Jesus Christ,
I beg You, hear my cries,
Grant me mercy at this time,
Let me not despair;
The true faith, Lord,
That which You would give me, I mean,
So I may live for You,
to be of use to my neighbour,
and to keep Your word faithfully.
Page 1 of 25
Michael Praetorius
(?1571 - 1621)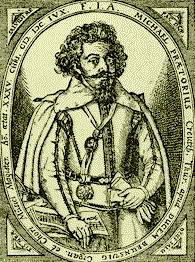 Ich ruf zu dir Herr Jesu Christ


(S.S.A.A.T.T.B.B. + reduction)

Preview and playback are available to the left or above


Full score (PDF), €2.30 for a single copy Buy this item
Choir offer (PDF), €33.00 for 24 copies Buy this item
Printable cover page (PDF), €0.00 for unlimited copies Download this item

Please click here to report any problem obtaining a PDF