notAmos Performing Editions
1 Lansdown Place East, Bath
BA1 5ET, UK
+44 (0) 1225 316145
Email

Performing editions of pre‑classical music
with full preview/playback and instant download
From Warren's seventeenth collection of catches, canons and glees" This glee won a Catch Club prize medal in 1778.
Lyrics: Anon, probably the composer

Great Bacchus, O aid us to sing to thy great glory;
Thou chief of the gods, we assemble before thee,
Wine's first projector, mankind's protector.
Hail! Patron of social delights, we adore thee;
All nature rejoiced when thy birth was declared,
Behold here thy altar and vot'ries prepared.
Crown with thy blessing all, who confessing
No power on earth can be with thine compared.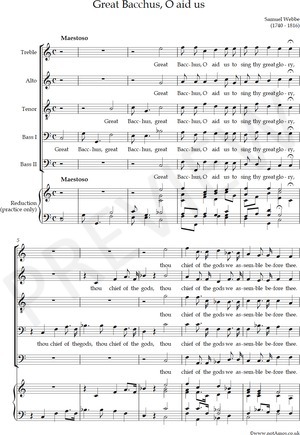 Page 1 of 8
Samuel Webbe
(1740 - 1816)


Great Bacchus, O aid us


(S.A.T.B.B. + reduction)

Preview and playback are available to the left or above


Full score (PDF), €0.70 for a single copy Buy this item
Choir offer (PDF), €6.00 for 15 copies Buy this item
Printable cover page (PDF), €0.00 for unlimited copies Download this item

Please click here to report any problem obtaining a PDF