notAmos Performing Editions
1 Lansdown Place East, Bath
BA1 5ET, UK
+44 (0) 1225 316145
Email

Performing editions of pre‑classical music
with full preview/playback and instant download

Benjamin Cooke

(1734 - 1793)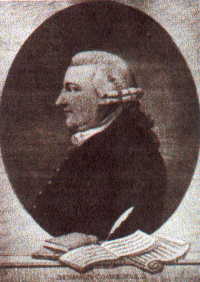 Nymph, over thee

(S.A.T.B. + reduction)
Full score (PDF), €0.50 for a single copy Buy this item
Choir offer (PDF), €3.50 for 12 copies Buy this item
Printable cover page (PDF), €0.00 for unlimited copies Download this item

Please click here to report any problem obtaining a PDF
Page 1 of 7
For licensing/copyright information please click
here
Between 1763 and 1794 Thomas Warren published, through differing publishers, an annual collection of catches, canons and glees, under the aegis of the Catch Club. This item was published in the nineteenth collection.
Lyrics: Supposed to be written by Lord Sandwich

Nymph, over thee sweet, fair and young,
Each bosom yields a sigh;
Applauses flow from every tongue
And tears from every eye.
Still lives, and ever shall, thy fame
Thy beauty only died.
Envy has little to proclaim,
Nor flattery to hide.