notAmos Performing Editions
1 Lansdown Place East, Bath
BA1 5ET, UK
+44 (0) 1225 316145
Email

Performing editions of pre‑classical music
with full preview/playback and instant download
From East's second set of madrigals, pub. 1606. This piece is also available for S.S.A.
Lyrics: Anon, probably the composer

How merrily we live that shepherds be:
Roundelays still we sing with merry glee
On the pleasant downs, where as our flocks we see.
We feel no cares, we fear not fortune's frowns;
We have no envy which sweet mirth confounds.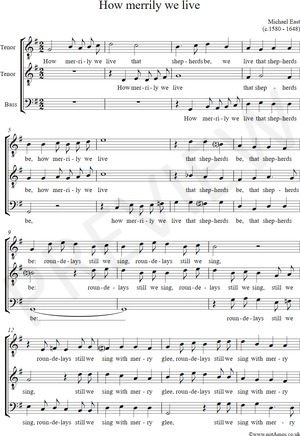 Page 1 of 3
Michael East
(c.1580 - 1648)


How merrily we live


(T.T.B.)

Preview and playback are available to the left or above


Full score (PDF), €0.00 for unlimited copies Download this item
SSA full score (PDF), €0.00 for unlimited copies Download this item
Printable cover page (PDF), €0.00 for unlimited copies Download this item

Please click here to report any problem obtaining a PDF