notAmos Performing Editions
1 Lansdown Place East, Bath
BA1 5ET, UK
+44 (0) 1225 316145
Email

Performing editions of pre‑classical music
with full preview/playback and instant download
This glee gained a Catch Club prize medal in 1776.
Lyrics: Anon, probably the composer

You gave me your heart t'other day,
I thought it as safe as my own.
I've not lost it but what can I say?
Not your heart from mine can be known.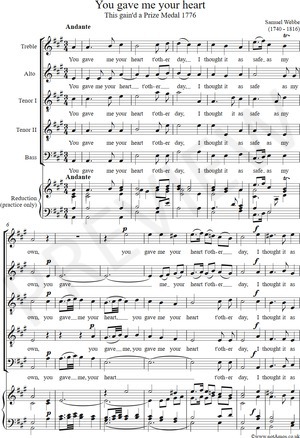 Page 1 of 2
Samuel Webbe
(1740 - 1816)


You gave me your heart


(S.A.T.T.B. + reduction)

Preview and playback are available to the left or above


Full score (PDF), €0.00 for unlimited copies Download this item
Printable cover page (PDF), €0.00 for unlimited copies Download this item

Please click here to report any problem obtaining a PDF