notAmos Performing Editions
1 Lansdown Place East, Bath
BA1 5ET, UK
+44 (0) 1225 316145
Email

Performing editions of pre‑classical music
with full preview/playback and instant download

Francis Ireland

(c.1722 - 1773)


Could gold prolong

(A.T.B. + reduction)
Full score (PDF), €0.50 for a single copy Buy this item
Choir offer (PDF), €2.50 for 9 copies Buy this item
Printable cover page (PDF), €0.00 for unlimited copies Download this item

Please click here to report any problem obtaining a PDF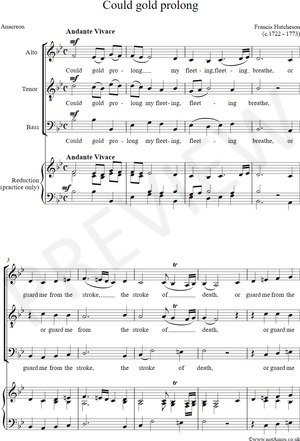 Page 1 of 9
For licensing/copyright information please click
here
Francis Ireland was the pen name of Francis Hutcheson, son of the Scottish philosopher of the same name, under which he published his compositions, principally glees and catches. This glee was published in Warren's twelfth collection of catches and glees.
Lyrics: Anacreon

Could gold prolong my fleeting breath,
Or guard me from the stroke of death:
Then would I toil for precious ore
And amass a boundless store.
But since all at length must die
Nor gold a single hour can buy,
Let the joys of life be mine;
Pour the streams of rosy wine;
Let me taste in Chloe's arms
All the heav'n of beauty's charms.
The smiles of friendship let me prove;
Friendship is the soul of love.