notAmos Performing Editions
1 Lansdown Place East, Bath
BA1 5ET, UK
+44 (0) 1225 316145
Email

Performing editions of pre‑classical music
with full preview/playback and instant download
Between 1763 and 1794 Thomas Warren published, through differing publishers, an annual collection of catches, canons and glees, under the aegis of the Catch Club. This item was published in the seventh collection.
Lyrics: Anon, probably the composer

Lover, thou must be presuming,
If thou wilt the fair possess;
See! the wanton, blushing, blooming,
Courts your tender fond caress.
Man of show, stand not so,
To her go, let her know,
Warm as May, your brisk address.
Cloudy eye if she appear in,
Ever to your am'rous view,
Looks of cold December wearing,
Bid the proud coquette adieu.
'Tis design, never pine,
Never sigh or whine;
Fly from her; she'll follow you.

Page 1 of 5
Benjamin Cooke
(1734 - 1793)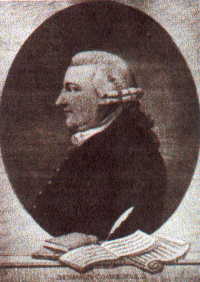 Lover, thou must be presuming


(A.T.B.)

Preview and playback are available to the left or above


Full score (PDF), €0.00 for unlimited copies Download this item
Printable cover page (PDF), €0.00 for unlimited copies Download this item

Please click here to report any problem obtaining a PDF