notAmos Performing Editions
1 Lansdown Place East, Bath
BA1 5ET, UK
+44 (0) 1225 316145
Email

Performing editions of pre‑classical music
with full preview/playback and instant download

Giovanni Croce

(c.1557 - 1609)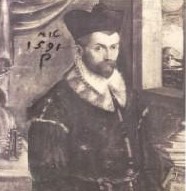 Angelus Domini descendit

(S.A.T.T.B. + reduction)
Full score (PDF), €0.00 for unlimited copies Download this item
Printable cover page (PDF), €0.00 for unlimited copies Download this item

Please click here to report any problem obtaining a PDF
Page 1 of 6
This work, Croce : Angelus Domini descendit : scoreid 145541
, as published by
notAmos Performing Editions
, is licensed under a
Creative Commons Attribution-ShareAlike 4.0 International License
. All relevant attributions should state its URL as
https://www.notamos.co.uk/detail.php?scoreid=145541
. Permissions beyond the scope of this licence may be available at
https://www.notamos.co.uk/index.php?sheet=about
.
From Sacræ Cantiones quinis vocibus concinendæ, 1605
Lyrics: Matthew ch.28, v.2,5,6

Angelus Domini descendit de coelo, et accedens revolvit lapidem et super eum sedit. Et dixit mulieribus: Noli temere, scio enim, quia crucifixum quaeritis.
Non est hic jam surrexit, venite et videte locum, ubi positus erat Dominus.
Alleluia.

The angel of the Lord descended from heaven, and came and rolled back the stone from the door, and sat upon it.
And said unto the women, Fear not ye: for I know that ye seek Jesus, which was crucified.
He is not here: for he is risen, as he said. Come, see the place where the Lord lay.
Allelujah.