notAmos Performing Editions
1 Lansdown Place East, Bath
BA1 5ET, UK
+44 (0) 1225 316145
Email

Performing editions of pre‑classical music
with full preview/playback and instant download

Annibale Perini

(c.1560 - 1596)


Cantate Domino (Psalm 96)

(S.S.A.A.T.T.B. (or S.S.A.T.T.B.B.))
Full score (PDF), €0.00 for unlimited copies Download this item
Transposed score (PDF), €0.00 for unlimited copies Download this item
Printable cover page (PDF), €0.00 for unlimited copies Download this item

Please click here to report any problem obtaining a PDF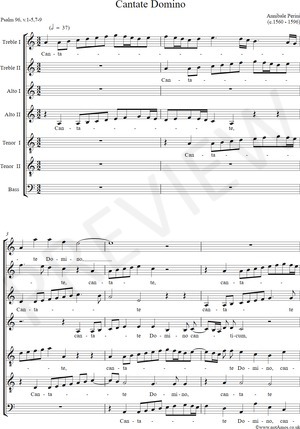 Page 1 of 11
This work, Perini : Cantate Domino (Psalm 96) : scoreid 145566
, as published by
notAmos Performing Editions
, is licensed under a
Creative Commons Attribution-ShareAlike 4.0 International License
. All relevant attributions should state its URL as
https://www.notamos.co.uk/detail.php?scoreid=145566
. Permissions beyond the scope of this licence may be available at
https://www.notamos.co.uk/index.php?sheet=about
.
From Promptuarii musici (vol. 2), 1612. This edition is offered at original pitch (high chiavette) for S.S.A.A.T.T.B. or transposed down a fourth for S.S.A.T.T.B.B.
Lyrics: Psalm 96, v.1-5,7-9

Cantate Domino canticum novum: cantate Domino omnis terra.
Cantate Domino, benedicite nomini eius: annuntiate diem de die salutare eius.
Annuntiate inter gentes gloriam eius: in omnibus populis mirabilia eius.
Quoniam magnus Dominus, et laudabilis nimis: terribilis est super omnes deos.
Quoniam omnes dii gentium daemonia: Dominus autem caelos fecit.
Afferte Domino patriae gentium: afferte Domino gloriam et honorem.
Afferte Domino gloriam nomini eius: tollite hostias, et introite in atria eius.
Adorate Dominum in atrio sancto eius.

O sing unto the Lord a new song: sing unto the Lord, all the whole earth.
Sing unto the Lord, and praise his Name: be telling of his salvation from day to day.
Declare his honour unto the heathen: and his wonders unto all people.
For the Lord is great, and cannot worthily be praised: he is more to be feared than all gods.
As for all the gods of the heathen, they are but idols: but it is the Lord that made the heavens.
Ascribe unto the Lord, O ye kindreds of the people: ascribe unto the Lord worship and power.
Ascribe unto the Lord the honour due unto his Name: bring presents, and come into his courts.
O worship the Lord in the beauty of holiness.