notAmos Performing Editions
1 Lansdown Place East, Bath
BA1 5ET, UK
+44 (0) 1225 316145
Email

Performing editions of pre‑classical music
with full preview/playback and instant download
A funerary motet from Promptuarii musici (vol. 2), 1612. This edition is transposed a tone higher than the original.
Lyrics: Anon

Adesto dolori meo, O Deus, nimium fatigor:
et cecidit in luctum cithara mea,
et cantatio mea in plorationem.

I am consumed with my grief, O God,
I am too much tormented:
My harp has fallen into mourning,
My singing into weeping.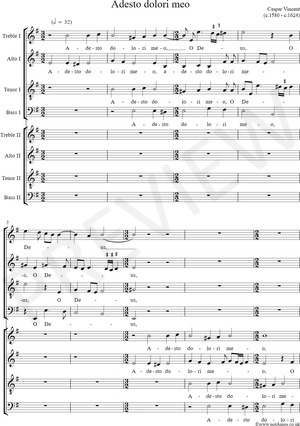 Page 1 of 7
Caspar Vincent
(c.1580 - c.1624)


Adesto dolori meo


(S.S.A.A.T.T.B.B.)

Preview and playback are available to the left or above


Full score (PDF), €0.00 for unlimited copies Download this item
Printable cover page (PDF), €0.00 for unlimited copies Download this item

Please click here to report any problem obtaining a PDF