notAmos Performing Editions
1 Lansdown Place East, Bath
BA1 5ET, UK
+44 (0) 1225 316145
Email

Performing editions of pre‑classical music
with full preview/playback and instant download
Child was adept at setting biblical text to make a contemporary political point. It is probable that this piece commemorates the period abroad of the Stuart court during the commonwealth, the use of false relations highlighting the pain of exile.
Lyrics: Psalm 120, v.4

Woe is me, that I am constrained to dwell with Mesech: and to have my habitation among the tents of Kedar.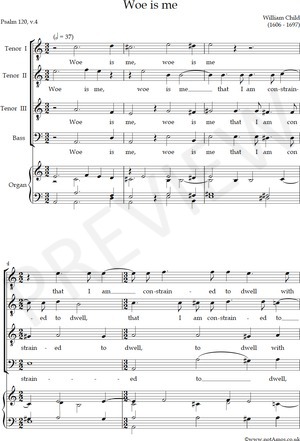 Page 1 of 4
William Child
(1606 - 1697)


Woe is me


(T.T.T.B.Kbd.)

Preview and playback are available to the left or above


Full score (PDF), €0.40 for a single copy Buy this item
Choir offer (PDF), €2.50 for 12 copies Buy this item
Printable cover page (PDF), €0.00 for unlimited copies Download this item

Please click here to report any problem obtaining a PDF