notAmos Performing Editions
1 Lansdown Place East, Bath
BA1 5ET, UK
+44 (0) 1225 316145
Email

Performing editions of pre‑classical music
with full preview/playback and instant download
Setting of part of the sequence used on Easter Day, "Victimae paschale laudes", from Promptuarii musici (vol, 2), 1612.
Lyrics: Wipo of Burgundy (attrib.)

Alleluia. Agnus redemit oves:
Christus innocens Patri
reconciliavit peccatores.
Alleluia. Scimus Christum surrexisse
a mortuis vere.
Alleluia. Tu nobis, victor rex, miserere.
Alleluia.

Alleluia. The Lamb has redeemed the sheep:
Christ who is without sin
has reconciled sinners to the Father.
Alleluia. We know Christ to be risen
from the dead as truth.
Alleluia. Upon us, O victor and king, have mercy.
Alleluia.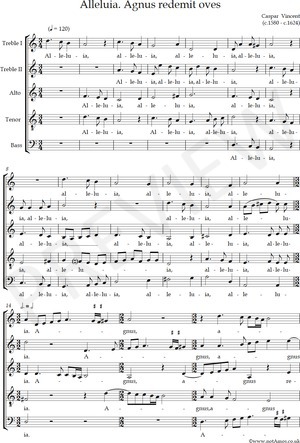 Page 1 of 10
Caspar Vincent
(c.1580 - c.1624)


Alleluia. Agnus redemit oves


(S.S.A.T.B.)

Preview and playback are available to the left or above


Full score (PDF), €0.00 for unlimited copies Download this item
Printable cover page (PDF), €0.00 for unlimited copies Download this item

Please click here to report any problem obtaining a PDF