notAmos Performing Editions
1 Lansdown Place East, Bath
BA1 5ET, UK
+44 (0) 1225 316145
Email

Performing editions of pre‑classical music
with full preview/playback and instant download
Easter motet from Promptuarii musici (vol. 2), 1612. This edition is at original pitch.
Lyrics: Anon

Surrexit pastor bonus
Alleluia.
Qui animam suam posuit pro ovibus suis.
Alleluia.
Et pro grege suo mori dignatus est.
Alleluia.
Etenim pascha nostra immolatus est Christus.
Alleluia.

That good shepherd is risen.
Alleluia.
Who laid down his life for his sheep.
Alleluia.
And for his flock was meet to die.
Alleluia.
For Christ was sacrificed for our Easter.
Alleluia.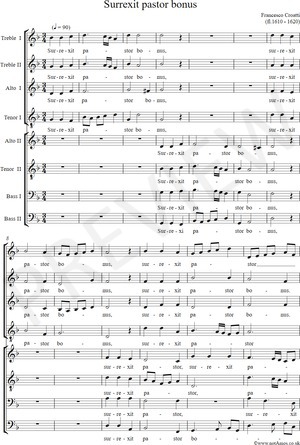 Page 1 of 8
Francesco Croatti
(fl.1610 - 1620)


Surrexit pastor bonus


(S.S.A.A.T.T.B.B.)

Preview and playback are available to the left or above


Full score (PDF), €0.00 for unlimited copies Download this item
Printable cover page (PDF), €0.00 for unlimited copies Download this item

Please click here to report any problem obtaining a PDF