notAmos Performing Editions
1 Lansdown Place East, Bath
BA1 5ET, UK
+44 (0) 1225 316145
Email

Performing editions of pre‑classical music
with full preview/playback and instant download
From Motetti a otto voce, Venice, 1603. Instruments may be used to replace or reinforce the voices.
Lyrics: Psalm 47, v.13,5-8

Omnes gentes, plaudite manibus: jubilate Deo in voce exultationis:
Quoniam Dominus excelsus, terribilis: Rex magnus super omnem terram.
Subiecit populos nobis: et gentes sub pedibus nostris.
Ascendit Deus in jubilo: et Dominus in voce tubae.
Psallite Deo nostro, psallite: psallite Regi nostro, psallite sapienter.
Quoniam regnabit Deus in aeternum. Alleluia.

O clap your hands together, all ye people: O sing unto God with the voice of melody.
For the Lord is high, and to be feared: he is the great King upon all the earth.
He shall subdue the people under us: and the nations under our feet.
God is gone up with a merry noise: and the Lord with the sound of the trump.
O sing praises, sing praises unto our God: O sing praises,
sing praises unto our King with understanding.
For God reigneth for ever. Alleluia.
Page 1 of 8
Giovanni Croce
(c.1557 - 1609)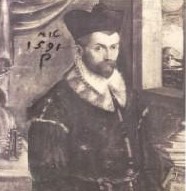 Omnes gentes plaudite


(S.S.A.A.T.T.B.B.)

Preview and playback are available to the left or above


Full score (PDF), €0.40 for a single copy Buy this item
Choir offer (PDF), €5.50 for 24 copies Buy this item
Printable cover page (PDF), €0.00 for unlimited copies Download this item

Please click here to report any problem obtaining a PDF