notAmos Performing Editions
1 Lansdown Place East, Bath
BA1 5ET, UK
+44 (0) 1225 316145
Email

Performing editions of pre‑classical music
with full preview/playback and instant download
From Sacrae cantiones quinis vocibus, 1590. This edition is offered at original pitch for S.A.A.T.B. or transposed down a fourth for A.T.T.B.B.
Lyrics: St. Thomas Aquinas

O sacrum convivium,
in quo Christus sumitur;
recolitur memoria passionis ejus;
mens impletur gratia;
et futurae gloriae nobis pignus datur. Alleluia.

O sacred banquet,
wherein Christ is received;
the memory of his passion is renewed;
the mind is filled with grace;
and a pledge of future glory is given to us. Alleluia.
Page 1 of 8
Giovanni Croce
(c.1557 - 1609)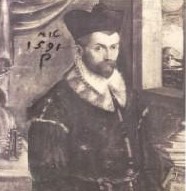 O sacrum convivium


(S.A.A.T.B. (or A.T.T.B.B.) + reduction)

Preview and playback are available to the left or above


Full score (PDF), €0.40 for a single copy Buy this item
Transposed score (PDF), €0.40 for a single copy Buy this item
Choir offer (PDF), €3.50 for 15 copies Buy this item
Choir offer - transposed score (PDF), €3.50 for 15 copies Buy this item
Printable cover page (PDF), €0.00 for unlimited copies Download this item

Please click here to report any problem obtaining a PDF