notAmos Performing Editions
1 Lansdown Place East, Bath
BA1 5ET, UK
+44 (0) 1225 316145
Email

Performing editions of pre‑classical music
with full preview/playback and instant download
From Motetti a otto voce, Venice, 1603. Instruments may be used to replace or reinforce the voices.
Lyrics: Psalm 67, v.1-4

Deus misereatur nostri et benedicat nobis: illuminet vultum suum super nos, et misereatur nostri:
Ut cognascamus in terra viam tuam: in omnibus gentibus salutare tuum.
Confiteantur tibi populi, Deus: confiteantur tibi populi omnes.
Lætentur et exsultent gentes: quoniam Deus regnat in aeternum.

God be merciful unto us, and bless us: and shew us the light of his countenance, and be merciful unto us:
That thy way may be known upon earth: thy saving health among all nations.
Let the people praise thee, O God: yea, let all the people praise thee.
O let the nations rejoice and be glad: for the Lord reigneth for ever.
Page 1 of 7
Giovanni Croce
(c.1557 - 1609)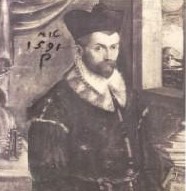 Deus misereatur


(S.S.A.A.T.T.B.B.)

Preview and playback are available to the left or above


Full score (PDF), €0.50 for a single copy Buy this item
Choir offer (PDF), €7.00 for 24 copies Buy this item
Printable cover page (PDF), €0.00 for unlimited copies Download this item

Please click here to report any problem obtaining a PDF