notAmos Performing Editions
1 Lansdown Place East, Bath
BA1 5ET, UK
+44 (0) 1225 316145
Email

Performing editions of pre‑classical music
with full preview/playback and instant download

Giovanni Croce

(c.1557 - 1609)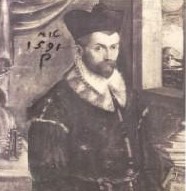 Quæramus cum pastoribus

(S.S.A.A.T.T.B.B. (or A.A.A.T.T.T.B.B.))
Full score (PDF), €0.00 for unlimited copies Download this item
Transposed score (PDF), €0.00 for unlimited copies Download this item
Printable cover page (PDF), €0.00 for unlimited copies Download this item

Please click here to report any problem obtaining a PDF
Page 1 of 16
This work, Croce : Quæramus cum pastoribus : scoreid 145717
, as published by
notAmos Performing Editions
, is licensed under a
Creative Commons Attribution-ShareAlike 4.0 International License
. All relevant attributions should state its URL as
https://www.notamos.co.uk/detail.php?scoreid=145717
. Permissions beyond the scope of this licence may be available at
https://www.notamos.co.uk/index.php?sheet=about
.
Christmas setting from Motetti a otto voce, Venice, 1603. Instruments may be used to replace or reinforce the voices. This edition is offered at original pitch for S.S.A.A.T.T.B.B. or transposed down a fourth for A.A.A.T.T.T.B.B.
Lyrics: Anon

Quaeramus cum pastoribus
Verbum incarnatum:
Cantemus cum hominibus
Regem seculorum. Noe.

Quid tu vides in stabulo?
Jesum natum de virgine.
Quid audis in praesepio?
Angelos cum carmine,
Et pastores dicentes: Noe.

Ubi pascas, ubi cubes?
Dic si ploras aut si rides,
Te rogamus, rex Christe.
Cibus est lac virgineum,
Lectus durum praesepium,
Carmina sunt lacrimae. Noe.

Let us, with the shepherds, seek
The incarnate Word:
Let us, with all mankind, sing
For the King of all ages. Noel.

What do you see in the stable?
Jesus, born of a virgin.
What do you hear in the manger?
Angels in song,
And shepherds saying: Noel.

Where will You eat? Where do You lie?
Tell us if You weep or smile,
We ask You, Christ the King.
The meal is the Virgin's milk,
The bed is a hard manger,
The songs are tears. Noel.