notAmos Performing Editions
1 Lansdown Place East, Bath
BA1 5ET, UK
+44 (0) 1225 316145
Email

Performing editions of pre‑classical music
with full preview/playback and instant download

Ruggiero Giovannelli

(c.1560 - 1625)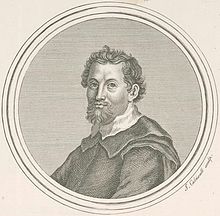 Caro mea vere

(S.A.A.A.B. (or S.A.T.T.B.) + reduction)
Full score (PDF), €0.00 for unlimited copies Download this item
Transposed score (PDF), €0.00 for unlimited copies Download this item
Printable cover page (PDF), €0.00 for unlimited copies Download this item

Please click here to report any problem obtaining a PDF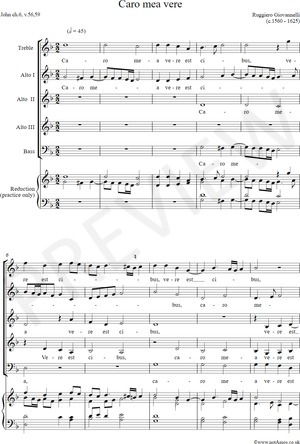 Page 1 of 8
This work, Giovannelli : Caro mea vere : scoreid 145838
, as published by
notAmos Performing Editions
, is licensed under a
Creative Commons Attribution-ShareAlike 4.0 International License
. All relevant attributions should state its URL as
https://www.notamos.co.uk/detail.php?scoreid=145838
. Permissions beyond the scope of this licence may be available at
https://www.notamos.co.uk/index.php?sheet=about
.
Eucharistic motet for the feast of Corpus Christi from Motecta quinque vocum (book 2), Venice, 1604.

This edition is offered at original pitch for S.A.A.A.B., or transposed down a fourth for S.A.T.T.B. The original is cleffed in chiavette (high clefs). Both pitch and the wide range of essentially equal parts present problems for the two lower inner parts in performance: the range is slightly less uncomfortable for altos than for tenors. The transposition represents the better practical solution.
Lyrics: Latin Antiphon

Caro mea vere est cibus et sanguis meus vere est potus.
Qui manducat hunc panem vivet in aeternum. Alleluia.

My flesh is meat indeed, and my blood is drink indeed.
He that eateth of this bread shall live forever. Alleluia.