notAmos Performing Editions
1 Lansdown Place East, Bath
BA1 5ET, UK
+44 (0) 1225 316145
Email

Performing editions of pre‑classical music
with full preview/playback and instant download
Setting of a portion of the Te Deum from Sacrorum concentuum, Venice, 1594.
Lyrics: Saints Ambrose and Augustine

Salvum fac populum tuum, Domine, et benedic hereditati tuae.
Et rege eos, et extolle illos usque in aeternum.
Per singulos dies benedicimus te: et laudamus nomen tuum in saeculum, et in saeculum saeculi.

O Lord, save thy people, and bless thine heritage.
Govern them, and lift them up for ever.
Day by day we magnify thee: and we worship thy Name, ever world without end.
Page 1 of 14
Claudio Merulo
(1533 - 1604)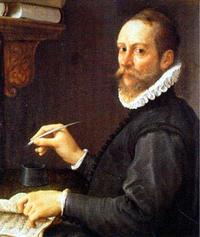 Salvum fac populum tuum


(S.S.A.A.A.T.T.T.T.B.B.B)

Preview and playback are available to the left or above


Full score (PDF), €0.00 for unlimited copies Download this item
Printable cover page (PDF), €0.00 for unlimited copies Download this item

Please click here to report any problem obtaining a PDF