notAmos Performing Editions
1 Lansdown Place East, Bath
BA1 5ET, UK
+44 (0) 1225 316145
Email

Performing editions of pre‑classical music
with full preview/playback and instant download
A motet from Promptuarii musici (vol. 4), 1617.
Lyrics: Tobit ch.5, v.11-13

Gaudium sit tibi semper.
Quale mihi gaudium erit, qui in tenebris sedeo,
et lumen coeli non video?
Forti animo esto in proximo est, ut a Deo cureris.

Joy be to thee always.
What manner of joy shall be to me, who sit in darkness,
and see not the light of heaven?
Be of good courage, thy cure from God is at hand.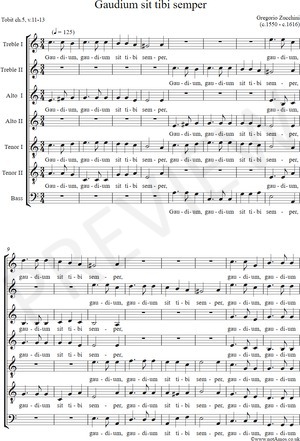 Page 1 of 6
Gregorio Zucchini
(c.1550 - c.1616)


Gaudium sit tibi semper


(S.S.A.A.T.T.B.)

Preview and playback are available to the left or above


Full score (PDF), €0.00 for unlimited copies Download this item
Printable cover page (PDF), €0.00 for unlimited copies Download this item

Please click here to report any problem obtaining a PDF