notAmos Performing Editions
1 Lansdown Place East, Bath
BA1 5ET, UK
+44 (0) 1225 316145
Email

Performing editions of pre‑classical music
with full preview/playback and instant download
One of a set of six airs from the Beggar's Opera harmonized for three voices for concert performance.
Lyrics: John Gay

Can love be controlled by advice,
Will Cupid our mothers obey?
Tho' my heart were as frozen as ice,
At his flame 'twould have melted away.
When he kissed me so closely he pressed,
'Twas so sweet that I must have complied;
So I thought it both safest and best
To marry for fear you should chide.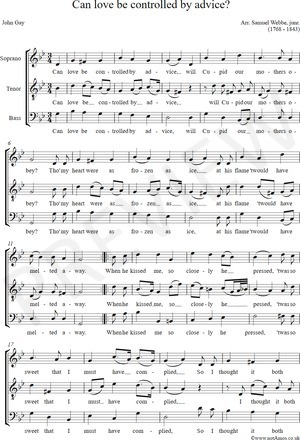 Page 1 of 2
Samuel Webbe (junr.) (arr.)
(1768 - 1843)


Can love be controlled by advice?


(S.T.B.)

Preview and playback are available to the left or above


Full score (PDF), €0.00 for unlimited copies Download this item
Printable cover page (PDF), €0.00 for unlimited copies Download this item

Please click here to report any problem obtaining a PDF