notAmos Performing Editions
1 Lansdown Place East, Bath
BA1 5ET, UK
+44 (0) 1225 316145
Email

Performing editions of pre‑classical music
with full preview/playback and instant download
Holder described himself in the frontispiece of his collection of glees, Op. 6 as organist of Bungay, Suffolk.
Lyrics: Anacreon (trans. Rev. D.H.Urquhart)

Care sleeps whene'er I drink my wine;
Then why thus anxiously repine?
Since sadness cannot death defer,
Why does my life from reason err?
With Bacchus let us revels keep,
For while we drink our sorrows sleep.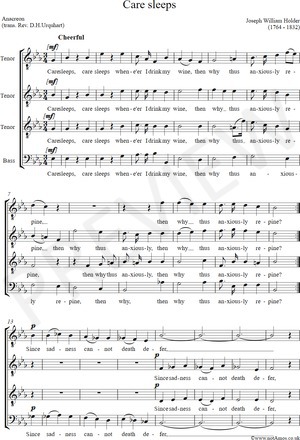 Page 1 of 3
Joseph William Holder
(1764 - 1832)


Care sleeps


(T.T.T.B.)

Preview and playback are available to the left or above


Full score (PDF), €0.30 for a single copy Buy this item
Choir offer (PDF), €2.00 for 12 copies Buy this item
Printable cover page (PDF), €0.00 for unlimited copies Download this item

Please click here to report any problem obtaining a PDF