notAmos Performing Editions
1 Lansdown Place East, Bath
BA1 5ET, UK
+44 (0) 1225 316145
Email

Performing editions of pre‑classical music
with full preview/playback and instant download
Lyrics: William Wennington

Cease, cruel love, too oft haste thou strove.
Little tyrant, my breast to delude from its rest.
Haste thee, Bacchus, radiant boy
Thy clust'ring purple twine.
And bring again the long-lost joy;
The joy that once was mine.
Away then every freezing care,
My soul, no more a slave,
Its stolen bliss anew shall share,
Amid the sparkling wave.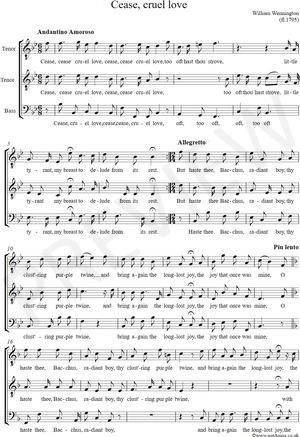 Page 1 of 2
William Wennington
(fl.1795 - 1800)


Cease, cruel love


(T.T.B.)

Preview and playback are available to the left or above


Full score (PDF), €0.20 for a single copy Buy this item
Choir offer (PDF), €1.00 for 9 copies Buy this item
Printable cover page (PDF), €0.00 for unlimited copies Download this item

Please click here to report any problem obtaining a PDF