notAmos Performing Editions
1 Lansdown Place East, Bath
BA1 5ET, UK
+44 (0) 1225 316145
Email

Performing editions of pre‑classical music
with full preview/playback and instant download
A minuet from the overture to Berenice, redrafted for use as a glee by Thomas Billington c.1790.
Lyrics: Anon

Farewell now, ye crystal streams,
Ye purling rills adieu;
Where love was all my theme for him,
For him who proves untrue.
Farewell, farewell, ye whistling reeds,
Soft scenes of tender love;
Farewell, ye bright enamelled meads,
Where I was wont to rove.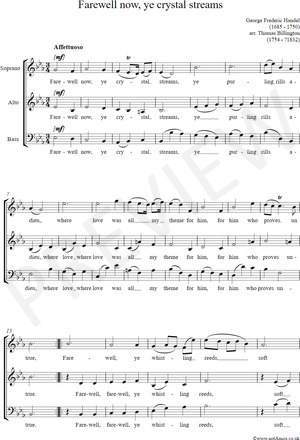 Page 1 of 2
after Handel
Farewell now, ye crystal streams


(S.A.B.)

Preview and playback are available to the left or above


Full score (PDF), €0.20 for a single copy Buy this item
Choir offer (PDF), €1.00 for 9 copies Buy this item
Printable cover page (PDF), €0.00 for unlimited copies Download this item

Please click here to report any problem obtaining a PDF