notAmos Performing Editions
1 Lansdown Place East, Bath
BA1 5ET, UK
+44 (0) 1225 316145
Email

Performing editions of pre‑classical music
with full preview/playback and instant download
Fischer was an oboist, colleague of J.C.Bach in England, and son in law (and portrait subject) to Thomas Gainsborough. This set of variations was published as the third movement of Fischer's Concerto no. 7 in F for Oboe "or German Flute" (the publisher's alternative). This edition includes a figured keyboard part, but the realisation is a condensation of the string parts, enabling the piece to be performed by Oboe/Flute and keyboard alone.

The provenance of the tune is shrouded in uncertainty with both Irish and Scottish claims to be the primordial version.
Page 1 of 10
Johann Christian Fischer
(1733 - 1800)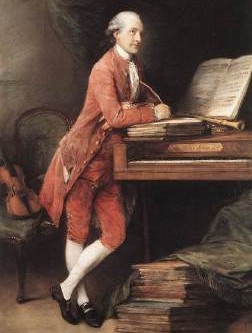 Gramachree Molly (with variations)


(Ob./Fl.2Hn.2Vn.Va.Vc.Kbd)

Preview and playback are available to the left or above


Full score (PDF), €3.00 for a single copy Buy this item
Oboe (or Flute) part (PDF), €0.50 for unlimited copies Buy this item
Horns in F I & II part (PDF), €0.50 for unlimited copies Buy this item
Violin I part (PDF), €0.50 for unlimited copies Buy this item
Violin II part (PDF), €0.50 for unlimited copies Buy this item
Viola part (PDF), €0.50 for unlimited copies Buy this item
Violoncello & Contrabass part (PDF), €0.50 for unlimited copies Buy this item
Keyboard part (PDF), €0.50 for unlimited copies Buy this item
Printable cover page (PDF), €0.00 for unlimited copies Download this item
Score, part(s) and cover page (PDF), €6.20 for bundled copies Buy this item

Please click here to report any problem obtaining a PDF