notAmos Performing Editions
1 Lansdown Place East, Bath
BA1 5ET, UK
+44 (0) 1225 316145
Email

Performing editions of pre‑classical music
with full preview/playback and instant download
Although not published until 1763, Charke's Medley Overture appears to have been written some 30 years earlier, possibly for use with the pantomime "Harlequin Restor'd", with subsequent rehearsals at similar productions. The piece is similar to the Gay/Pepusch prototype of the "Beggar's Opera": in this case Charke opens with "Dicky's walk" (from "Dr Faustus"), and then proceeds to quote both "low" tunes and "high" (e.g. Handel's March from "Scipio"). Some of these quotes are no more than brief allusions; they include tunes also used in the "Beggar's Opera", e.g. "Lilliburlero" and "The Happy Clown".

This overture shares features with others published as a set of six (Arne, Lampe, Howard, Prelleur (2)): all are described in the frontispiece as being of seven parts; in practice oboe parts diverge from those of the violins only in exceptional circumstances, and the violins frequently merge. Thus any harmony in more than two parts is perfunctory. One gets an impression of scores catering for an ad hoc and fluid orchestra, for which volume was more important than aesthetic subtlety. That impression mirrors the accounts by Charlotte Charke (Charke's wife, and Arne's niece by marriage) in her entertaining if unreliable memoirs of a "strolling player".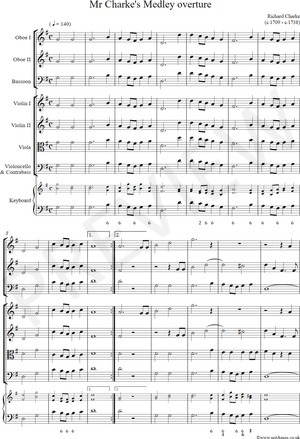 Page 1 of 9
Richard Charke
(1710 - 1778)


Medley Overture


(2Ob.Bsn.2Vn.Va.Vc.Kbd)

Preview and playback are available to the left or above


Full score (PDF), €4.00 for a single copy Buy this item
Oboe I part (PDF), €0.50 for unlimited copies Buy this item
Oboe II part (PDF), €0.50 for unlimited copies Buy this item
Bassoon part (PDF), €0.50 for unlimited copies Buy this item
Violin I part (PDF), €0.50 for unlimited copies Buy this item
Violin II part (PDF), €0.50 for unlimited copies Buy this item
Viola part (PDF), €0.50 for unlimited copies Buy this item
Violoncello & Contrabass part (PDF), €0.50 for unlimited copies Buy this item
Keyboard part (PDF), €0.50 for unlimited copies Buy this item
Printable cover page (PDF), €0.00 for unlimited copies Download this item
Score, part(s) and cover page (PDF), €7.60 for bundled copies Buy this item

Please click here to report any problem obtaining a PDF