notAmos Performing Editions
1 Lansdown Place East, Bath
BA1 5ET, UK
+44 (0) 1225 316145
Email

Performing editions of pre‑classical music
with full preview/playback and instant download
Smith was an early and unfortunately short-lived member of Charles II's Private Music. This chaconne-like composition was published posthumously in Playford's "Division Violin", 1684. This edition is offered at original pitch for violins or transposed up a fifth for treble recorders.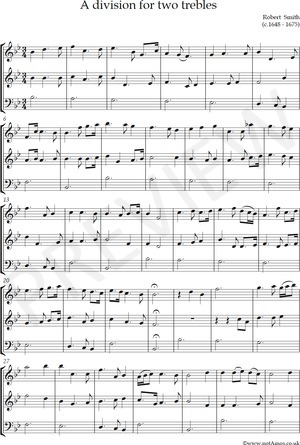 Page 1 of 3
Robert Smith
(c.1648 - 1675)


A Division for two trebles


(2Vn.Vc. or 2Tr.Rec.Bsn.)

Preview and playback are available to the left or above


Full score (PDF), €0.50 for a single copy Buy this item
Violin I part (PDF), €0.20 for unlimited copies Buy this item
Violin II part (PDF), €0.20 for unlimited copies Buy this item
Violoncello part (PDF), €0.20 for unlimited copies Buy this item
Recorder score (PDF), €0.50 for a single copy Buy this item
Treble Recorder 1 part (PDF), €0.20 for unlimited copies Buy this item
Treble Recorder 2 part (PDF), €0.20 for unlimited copies Buy this item
Bassoon part (PDF), €0.20 for unlimited copies Buy this item
Printable cover page (PDF), €0.00 for unlimited copies Download this item
Violin score, parts and cover page (PDF), €1.00 for bundle Buy this item
Recorder score, parts and cover page (PDF), €1.00 for bundle Buy this item

Please click here to report any problem obtaining a PDF