notAmos Performing Editions
1 Lansdown Place East, Bath
BA1 5ET, UK
+44 (0) 1225 316145
Email

Performing editions of pre‑classical music
with full preview/playback and instant download
A favourite Song, sung by Miss Cantelo with the greatest applause at the Concerts, Bath. Composed by Sigr. Rauzzini.
Lyrics: Anon

Silent I tread this lonely wood,
Silent I shed the piteous tear;
No hope to cheer my drooping soul,
Bereft of him I hold most dear.
Still do I seek those dreary shades.
A love-lorn maid the village scorn;
Since Henry won my plighted faith,
Then left me here to sigh forlorn.

Yon mossy bank oft-time recalls
The image of the blooming youth;
'Twas there he stole my easy heart
With vows of constancy and truth.
Faint from her lips her accents flew,
And faintly beamed her eyes so bright;
She sunk upon the mossy bank,
She sunk to everlasting light.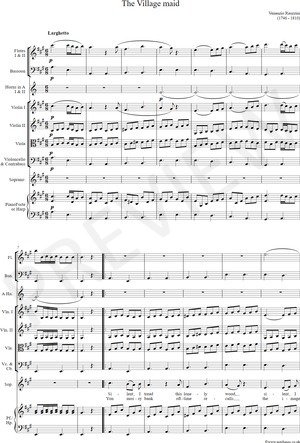 Page 1 of 4
Venanzio Rauzzini
(1746 - 1810)


The Village maid


(S.2Fl.Bsn.2Hn.2Vn.Va.Vc.Kbd./Hp.)

Preview and playback are available to the left or above


Full score (PDF), €1.00 for a single copy Buy this item
Flutes I & II part (PDF), €0.10 for unlimited copies Buy this item
Bassoon part (PDF), €0.10 for unlimited copies Buy this item
Horns in A I & II part (PDF), €0.10 for unlimited copies Buy this item
Violin I part (PDF), €0.10 for unlimited copies Buy this item
Violin II part (PDF), €0.10 for unlimited copies Buy this item
Viola part (PDF), €0.10 for unlimited copies Buy this item
Violoncello & Contrabass part (PDF), €0.10 for unlimited copies Buy this item
Soprano and Piano or Harp part (PDF), €0.10 for unlimited copies Buy this item
Printable cover page (PDF), €0.00 for unlimited copies Download this item

Please click here to report any problem obtaining a PDF