notAmos Performing Editions
1 Lansdown Place East, Bath
BA1 5ET, UK
+44 (0) 1225 316145
Email

Performing editions of pre‑classical music
with full preview/playback and instant download
Motet for Easter Day. This edition prepared from Florilegium Portense, Leipzig, 1618.
Lyrics: Matthew ch. 28, v. 2

Angelus Domini descendit de coelo, et accedens revolvit lapidem,
et sedebat super eum. Alleluia.

The angel of the Lord descended from heaven, and came and rolled back the stone from the door,
and sat upon it. Alleluia.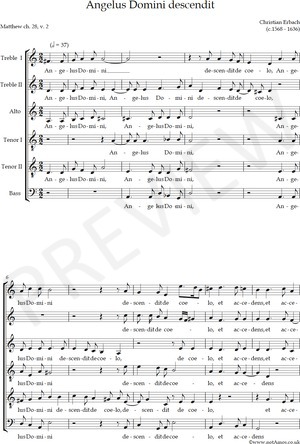 Page 1 of 6
Christian Erbach
(c.1568 - 1636)


Angelus Domini descendit


(S.S.A.T.T.B.)

Preview and playback are available to the left or above


Full score (PDF), €0.00 for unlimited copies Download this item
Printable cover page (PDF), €0.00 for unlimited copies Download this item

Please click here to report any problem obtaining a PDF