notAmos Performing Editions
1 Lansdown Place East, Bath
BA1 5ET, UK
+44 (0) 1225 316145
Email

Performing editions of pre‑classical music
with full preview/playback and instant download

John Reid

(1721 - 1807)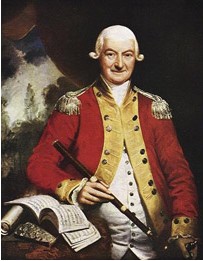 March for the 2nd battalion, 60th regiment of foot (Colonel Christie's)

(2Fl./Ob./Cl.Bsn.2Hn. or Kbd.)
Score, parts and cover page (PDF), €1.50 for bundled copies Buy this item
Keyboard part (PDF), €0.20 for a single copy Buy this item

Please click here to report any problem obtaining a PDF
Page 1 of 2
For licensing/copyright information please click
here
"A Set of Marches for two Clarinets, Hautboys or German Flutes, Two Horns and a Bassoon, Inscribed to The Rt. Honble. Lady Amherst by I.R. Esqr. [John Reid] N.B. For the Ease of Harpsichord Players, the first or principal part is placed next that of ye Bass", London, 1778/9.

John Reid pursued parallel military and musical careers. At the time of the writing of these marches he was a major, in the 42nd Highlanders. He ultimately rose to the rank of General, and left a substantial bequest to endow a professorship in the University of Edinburgh.

Reid's instrumentation for two melody instruments, two horns and bass was a standard line-up in both military and civilian band music of the period (military musicians were often called upon to reinforce or replace their civilian counterparts). No mention is made of percussion but the marches should presumably be reinforced by drums, possibly by exotica such as the fashionable Turkish Crescent, or "Jingling Johnny". The current edition includes parts for horns in the original key, and in F where different; for oboes/flutes and also for clarinets in B flat; and for bassoon. In accordance with Reid's hint on the title-page, a discrete keyboard version is provided.

Colonel Gabriel Christie became commanding officer of the 2nd battalion, 60th regiment of foot in May, 1778 and the battalion served in the West Indies, and then in the War of American Independence.