notAmos Performing Editions
1 Lansdown Place East, Bath
BA1 5ET, UK
+44 (0) 1225 316145
Email

Performing editions of pre‑classical music
with full preview/playback and instant download

Full score (PDF), €0.00 for unlimited copies Download this item
Printable cover page (PDF), €0.00 for unlimited copies Download this item

Please click here to report any problem obtaining a PDF

Click on the illustration to display a larger version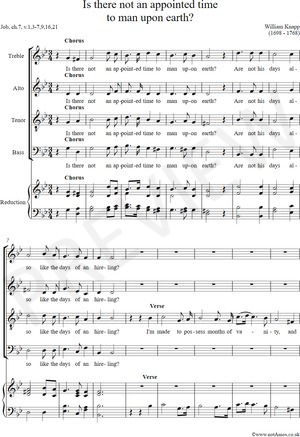 Page 1 of 8
This work, Knapp : Is there not an appointed time? : scoreid 146644
, as published by
notAmos Performing Editions
, is licensed under a
Creative Commons Attribution-ShareAlike 4.0 International License
. All relevant attributions should state its URL as
https://www.notamos.co.uk/detail.php?scoreid=146644
. Permissions beyond the scope of this licence may be available at
https://www.notamos.co.uk/index.php?sheet=about
.
"An anthem taken out of the seventh chapter of Job. Proper for funerals"

Knapp was a glover and tutor of psalmody in Poole. His "Set of new Psalm Tunes and Anthems" was popular, achieving 8 editions between 1738 and 1770. Knapp's constituency was country (predominantly organless) parishes. The reduction provided with the current edition is best reserved for rehearsal use only.
Lyrics: Job, ch.7, v.1,3-7,9,16,21

Is there not an appointed time to man upon earth? are not his days also like the days of an hireling?
I'm made to possess months of vanity, and wearisome nights are appointed to me.
When I lie down I say, When shall I arise, and the night be gone? I'm full of tossings to and fro unto the dawning of the day.
My flesh is clothed with worms and clods of dust; my skin is broken and become loathsome.
I loathe it; I would not live alway: let me alone, for my days are vanity.
My days are swifter than a weaver's shuttle, and are spent without hope.
O remember that my life is wind: mine eye shall no more see good.
As the cloud is consumed and vanisheth away, so he that goeth down to the grave shall come up no more.
For now shall I sleep in the dust; and thou shalt seek me in the morning, but I shall not be.