notAmos Performing Editions
1 Lansdown Place East, Bath
BA1 5ET, UK
+44 (0) 1225 316145
Email

Performing editions of pre‑classical music
with full preview/playback and instant download
Motet for Epiphany from Lupino's Primo Libro di Motetti a quatro voci, Venice, 1549.
Lyrics: Anon

Magi veniunt ab oriente
Ierosolimam quaerentes et dicentes:
Ubi est qui natus est cujus stellam vidimus?
Et venimus adorare Dominum.
Vidimus stellam eius in oriente,
et venimus adorare Dominum.

The wise men came from the East
searching for Jerusalem and saying:
Where is he that is born, whose star we have seen?
And we have come to worship the Lord.
We have seen that star in the East,
and we have come to worship the Lord.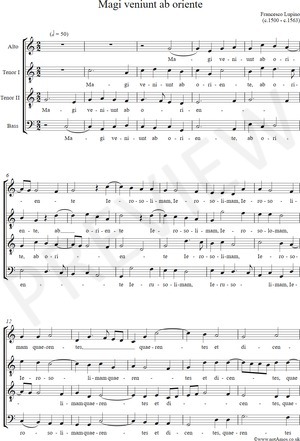 Page 1 of 5
Francesco Lupino
(c.1500 - c.1563)


Magi veniunt ab oriente


(A.T.T.B.)

Preview and playback are available to the left or above


Full score (PDF), €0.00 for unlimited copies Download this item
Printable cover page (PDF), €0.00 for unlimited copies Download this item

Please click here to report any problem obtaining a PDF