notAmos Performing Editions
1 Lansdown Place East, Bath
BA1 5ET, UK
+44 (0) 1225 316145
Email

Performing editions of pre‑classical music
with full preview/playback and instant download

Anon

(c.1825)


Awake my love, ere morning's ray

(T.T.B.)
Full score (PDF), €0.30 for a single copy Buy this item
Choir offer (PDF), €1.50 for 9 copies Buy this item
Printable cover page (PDF), €0.00 for unlimited copies Download this item

Please click here to report any problem obtaining a PDF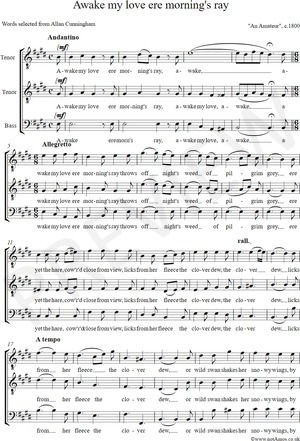 Page 1 of 5
For licensing/copyright information please click
here
Printed without attribution, c.1825.
Lyrics: Alan Cunningham

Awake my love, ere morning's ray
Throws off night's weed of pilgrim grey;
Ere yet the hare, cower'd close from view,
Licks from her fleece the clover dew;
Or wild swan shakes her snowy wings,
By hunters roused from secret springs;
Or birds upon the boughs awake,
Until green Tetworth's woodlands shake.

'Tis sweet my love, while thus the day
Grows into gold from silvery grey,
To witness heaven, bush and brake,
Instinct with soul and song awake.
The lark's song drops, now loud, now hush;
The goldspink answers from the bush,
The plover, fed on heather crop,
Calls from the misty mountain top.